This is the fourth part of a special Forkast series on crypto newcomer Joel Stein's adventures in the blockchain world. In Part 1, he opens a crypto wallet. Part 2 finds him immersed in play-to-earn as an Axie Infinity gamer and Part 3 features his foray into the metaverse and investing in virtual real estate.
_________________________________
For the past eight years I have exercised regularly, and for all of those years I have wished that I could get paid for it. Lifting weights and doing sit-ups are way harder and more unpleasant than what I actually make money doing, which is writing. 
Like all injustices — inflation! privacy intrusions! corruption! nothing to talk to your bros about besides fantasy football! — Web 3.0 wants to right this wrong. Their solution is a new genre of blockchain-powered games called "move-to-earn."
By running, doing pushups, jumping rope and even dancing with one of these apps, I could earn cryptocurrency as I exercised and own part of a company through literal sweat equity. 
One of the most popular move-to-earn apps is STEPN, a blockchain-powered platform with 2.3 million active monthly users around the world. I thought I'd simply sign up, do some exercises, and watch my crypto-money pile up. 
But, as I am realizing through this crypto diary, nothing on the blockchain is that simple. I downloaded the STEPN app and saw that I'd need to sign up for a STEPN wallet, with another 12-word seed phrase of random words that I had to write down and safekeep or risk locking away my crypto earnings for eternity. To participate in STEPN, I also needed to buy a non-fungible-token "sneaker." These virtual sneakers, when I first looked on the site back in April, cost more than US$1,200 for the most basic variety, which only allows you to earn crypto very slowly. Some high-end NFT sneakers cost way more, up to tens of thousands. 
And I'd need to buy these NFT sneakers with the Solana cryptocurrency, which meant having to get a different soft wallet, like Metamask, and keeping track of yet another 12-word seed phrase, since the Coinbase wallet that I struggled to figure out how to install a couple of months ago doesn't traffic in Solana. 
I decided that instead of doing all of that, I'd ask STEPN if I could borrow an NFT shoe, for the purpose of this column — as I'd done for my first book when Lamborghini loaned me a black Gallardo Superlegerra — if I promised to give it back in good condition. Which I somehow managed with the Lamborghini without having to use the fire extinguisher that came standard in the back. I think it wouldn't be a bad idea if crypto also came with a fire extinguisher.
STEPN co-founder Yawn Rong spoke to me from his house in Adelaide, Australia, where he moved after graduating from high school in China. The twenty-something said he made a lot of money from running a crypto fund and had been semi-retired for a couple of years, feeling bored, when he came up with the idea for STEPN with his neighbor, Jerry Huang, who once co-founded a gaming company.
The two enjoyed having beers in his backyard and talking crypto. One day the conversation turned to the pay-to-earn game Axie Infinity, which I tried my hand at recently. Axie is now tanking in the market, and Yawn and Jerry thought they knew what went wrong with Axie. 
They thought people were playing Axie way too much, in part because of game guilds — organizations of gamers and investors that share earnings, such as Yield Guild Games. "When the guild tells members, 'You have to play this game repetitively for eight hours a day,' they'll do it." All that playing made Axie wildly popular, but that also created too many Axie coins, which, like Venezuela printing too much money, caused hyperinflation and devalued the Axie currency.
Rong believed they needed to create a game that didn't allow you to play too much. "In Bitcoin, sometimes there was a crash, but there was always a floor of support. You have to pay electricity and custodial fees to mine," he said. "In STEPN, you have to go out and walk. When there's a cost, the token price has a pretty strong support." 
While Huang liked Rong's idea, he saw some issues. "Jerry said, 'I'm not doing exercise. I'm having my two beers every day,'" Rong recalled. 
Despite Huang's personal misgivings about exercising, he signed on as co-founder. They initially designed the game so that users would earn US$2 or US$3 a day, and set the price of the governance tokens (called GMT) at US$.01.
STEPN immediately took off. A couple of days after the STEPN app's December 2021 release, the token had shot up to US$1. By April 28, the tokens were selling for US$4.11, and in May Asics, the Japanese  company famed for its real-life running shoes, stamped its brand on 1,000 STEPN NFTs sneakers. 
The STEPN frenzy crescendoed in China, where more than 170 people put ads on Alibaba offering to do the running for STEPN NFT sneaker owners in exchange for yuan. In the first quarter of this year, STEPN made US$26 million in profit and had a valuation of US$1 billion. Users had blown past Rong and Huang's initial goal of people making US$2 per run. "So many people are flooding in, we're talking about them making US$1,800 to US$3,000 a day. People get their money back in 20 to 30 days," Rong said. 


Aside from STEPN's financial success, Rong is excited that users appeared to be meeting up in the real world for group runs. "We want to use Web3 to destroy Web3. We want to get people away from the metaverse and into making friends offline," Rong said. 
"We want to use Web3 to destroy Web3. We want to get people away from the metaverse and into making friends offline."

– Jerry Huang, co-founder, STEPN
The sneaker that STEPN loaned to me was brand new, still "inside" its virtual box, having been minted by the "breeding" two other NFT sneakers. This is a gross way to talk about sneaker production, but probably less gross than how real sneakers are made in factories in Dongguan. 
My sneaker was the product of a mixed marriage between a "jogger" and a "runner." According to the science and logic of NFT genetics, that meant inside my box was a spawn that could only be one or the other.
A "runner" would earn me more coins per day, but require me to physically move fast. With a "jogger," I could get by with brisk walking but would earn fewer coins each workout. But even though runners offer the biggest payouts, they cost the least on the open market. That's because no one likes to run.
I opened my virtual shoebox, and a little cartoon of a now-empty box appeared. 
Then I went to my "sneakers" page and saw it. The stork brought me a jogger. And my baby was beautiful, with a prominent brow, chiseled features and a complexion in soft hues of burnt orange, aqua blue, lilac and raw umber. 
My virtual shoe also had a "1.1 efficiency." Which meant I could speed-walk all I wanted but it wasn't going to make me much money.
But there was a way even this low-performance sneaker could help me earn more money — if I spend more money. 
Playing STEPN isn't as simple as running and earning crypto. Sure, I could cash out every time I got paid to run. But I'd be making pennies. If I wanted to make real money, I had to invest in "repairing" and upgrading my NFT sneaker. 
By design, my NFT shoe would "wear down" every time I ran, so I had to keep "repairing" it to maintain its performance. I'd also have to spend money to level up to improve my sneaker's attributes: "efficiency," which made them better earners; "luck," which were like lottery tickets that could improve my chances of getting gems, and "resilience," which would slow down the pre-programmed disintegration of my virtual shoe and save me money on repairs. I could also spend my earnings to mint a new shoe. The platform only allows each "common" shoe to run for 10 minutes a day. But you can run for up to 100 minutes a day if you own 10 sneakers, or one of the more expensive "uncommon," "rare," "epic" or "legendary" models. 
This was starting to seem less like move-to-earn and more like move-to-play. 
Despite all the confusing game rules, I was excited to make money through physical labor for the first time since high school, when I shucked oysters at a chain restaurant in New Jersey called Bay Street. I laced up my real-world six-year-old New Balances, tapped the "start" button on the STEPN app on my iPhone, watched it count down from 3 and started… brisk walking.
As I strived to move like an Olympic speed walker, STEPN tracked my strides through the streets of Hollywood Hills via my phone using GPS, a motion sensor and health data. I also had to maintain a certain pace, which was monitored by a little speedometer in the STEPN app. For my virtual jogger shoe, that meant between four and 10 kilometers an hour. 
STEPN has been working hard to prevent cheating, which people have been really clever about. Aside from hiring surrogates to do their walking or running, users have been known to put their phone on a bike, take it for a ride in their car, and strap it to their dog. Enterprising move-to-earners have jogged with 10 phones, each bearing an activated STEPN app. They also engage in GPS spoofing. To crack down on cheating, STEPN runs a quick test at the end of each run. If it determines you engaged in workout chicanery, the app takes away your coins for the day and suspends your ability to use your STEPN wallet.
The STEPN proctors determined that I did not cheat, and rewarded me with two game coins, which are called GSTs.
Unfortunately, STEPN had recently had to pull out of China because the company couldn't comply with the country's rules about GPS tracking. Which sent the value of its GST coins down. Also, Solana had a very bad week, and because people buy their NFTs and GSTs in Solana, that didn't help. So my two GST tokens were worth only US$2.
I spent all of my US$2 repairing my NFT shoe and moving it to level 1, where I got to choose which categories to improve. I upped my shoe's "efficiency" to increase my earning power.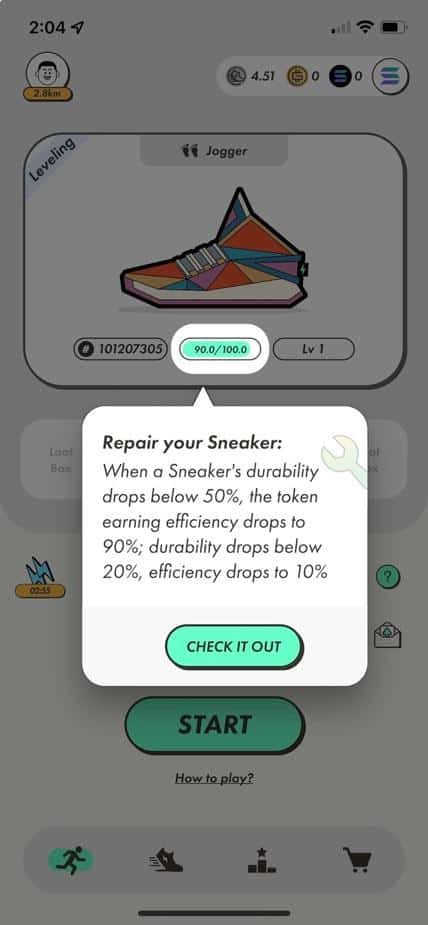 The next day, STEPN gave everyone a bonus: double running time, to make up for the app shutting down when it got hacked a few days earlier when it was putting in its new anti-cheating system. But that hack hurt the STEPN coin prices even more, so my improved shoe and I only made US$6. Which, of course, I then promptly spent to get all the way to level 3. 
To get to level 5, I'd need both STEPN's GST game coins and its GMT governance tokens. Truth be told, I still don't understand why all these Web3 services have both coins and tokens. I think coins are money that can be used anywhere, whereas tokens are in-app certificates of ownership. But you can buy and sell both GMT and GST on Coinbase, so they seem interchangeable to me. I'm pretty sure that most crypto companies issue both coins and tokens just so they can double their creation of money. I'm also sure thousands of people in Miami are now working on creating a third type of fake money.
So I had to trade my GST for GMT, because the game requires you to use both to advance your sneaker to level 5, 10, 20, 29 and 30. The reason for this involves STEPN's internal economics and is understood only by the company founders and maybe God. Which meant fiddling with my STEPN crypto wallet and waiting for the transactions to process. I'd also need two more runs to have enough spending power to level up.
That's when I got Covid.
I teleconferenced with my doctor as I lay in a bed in the guest room where I was isolating from my wife and son. Dr. Hascall told me to down electrolyte drinks and that, under no circumstances should I do even the lightest of exercise. 
But I was so close to STEPN level 5! 
I slipped out of my house pretending I only wanted fresh air. And instead, when my wife and son weren't looking, I began walking briskly, trying to score the final seven GST coins (worth around US$6 that day) I'd need to level up. 
Unfortunately, the STEPN network seemed too busy to let me level up right away, and I was so winded from Covid that I fell asleep. 
When I went to level up the next day, the crypto market had crashed. The 30 GST coins that I had squirreled away from eight days of brisk walking that had been worth about US$30, were now worth US$7.20, as the GST was down 98% from its all-time high. 
My US$1200 NFT sneaker was now worth less than US$120.  
The problem, I am realizing, is I'm too slow. Not slow at power walking, but at Web3. As a crypto newcomer, it seems that by the time I hear about something and figure out how to use it, the hype has already peaked and the price will soon crash as people are already shifting to the next fad. 
The problem, I am realizing, is I'm too slow. Not slow at power walking, but at Web3.

– Joel Stein
So, if you see me join whatever crypto Discord or Telegram community you're in, it's definitely time to sell.  
Perhaps that is the true meaning of move-to-earn —  you have to constantly move from crypto trend to crypto trend to earn money. 
But even though I'm now only making pennies from my STEPN strides, I'm going to keep using the app after my Covid recovery to earn crypto rewards. I was willing to walk miles for useless Fitbit e-badges, after all. I'm just awfully glad I didn't put four figures of real-world money into any NFT sneakers.